Current Graduate Students
Second Years
Spring 2022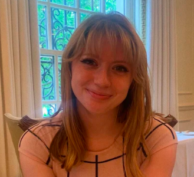 Rin Baker
Rin is a first-generation college student who earned her A.A. in Humanities and Social Sciences from SUNY Adirondack, and her B.A. in English with a minor in Educational Studies from the University at Albany. She is interested in researching the intersections of grief and literature and is eager to return to the classroom after two years of online learning. After class, you will likely find her crocheting, playing video games, or spending time with her two cats.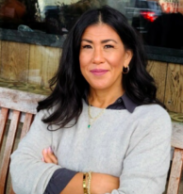 Kilmeny Chernys
Kilmeny graduated summa cum laude from Georgetown University and is excited to be back on the Hilltop. After working for several nonprofit organizations, she switched paths to pursue her love of literature through a career in publishing. Beginning with the Columbia Publishing Course at Oxford University, followed by a stint as a publicist for Viking and Penguin books in New York, she is currently employed by W. W. Norton publishers covering the greater DC area. She enjoys reading almost all genres, discovering new species of plants to add to her growing collection, baking for her family, and watching classic movies.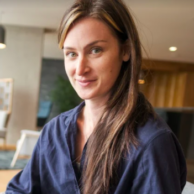 Nicole Davidow
Nicole received a B.A. in Public Communications from American University. Prior to re-entering academia, she worked as a content director in the commercial real estate industry and spent the past eight years in the marketing field. In her free time, Nicole enjoys yoga, running, growing her vinyl collection, and cuddling with her cat, Pippa.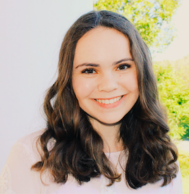 Mara Minson-Efimov
Mara is originally from McKinney, Texas. Upon completing her double major in English and Sociology at Washington and Lee University, she worked as a research analyst in D.C. Her research interests include late Victorian writers, New Women literature, and early 20th century feminist thought. In her free time, she enjoys reading and trying new coffee shops.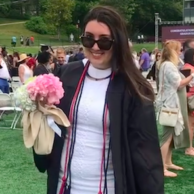 Morgan-Ann Kalin
Morgan-Ann graduated from Iona College in 2021, where she received a B.A. in English and Media & Strategic Communication. She recently moved to Washington from a small town in New York, which, she passionately defends, is not upstate. Morgan is particularly interested in the works of John Milton and will convince anyone of his position as an accidental feminist. Outside of the classroom, Morgan-Ann enjoys going to museums, finding cozy coffee shops, and traveling far and wide with her dog, Goose.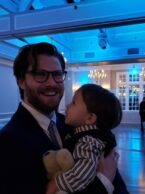 Chris Kenny
Chris graduated with a B.A. from Boston University and works as a Technical Writer for a software development firm. At Georgetown, he has been a Teaching Assistant for Fr. Mark Bosco's Flannery O'Connor and Graham Greene courses. This year, he will work as a Graduate Research Assistant for the Global Irish Studies Initiative. In his free time, he plays baseball for the Long Island Blue Claws where he was selected as an all-star for the 2021 season.
Fall 2021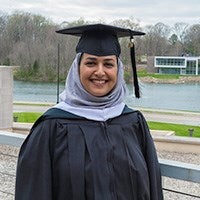 Afnan Alnashwan
Afnan is originally from Saudi Arabia. She received her B.A. in English Language and Literature from Princess Noura Bint Abdulrahman University and a Master's in Second Language Acquisition, Policy, and Culture from the University of Southern Indiana. She holds certificates in TESOL and Cultural Awareness Training. She worked at the University Admissions after graduating. Her research interests are methods and obstacles in teaching the English language and literature to foreign learners. In her spare time, she enjoys spending time with her family, reading, and baking.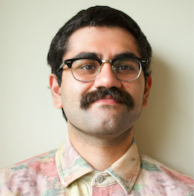 Arman Analouei
Arman was born in Silver Spring, Maryland, but prefers to be considered a Virginian for multiple reasons. He graduated from George Mason University in 2021 with a B.A in Literature magna cum laude and spends his days using his degree to teach others the true meaning of "Kafkaesque." His favorite painter is Georgia O'Keeffe and his favorite musician is David Bowie.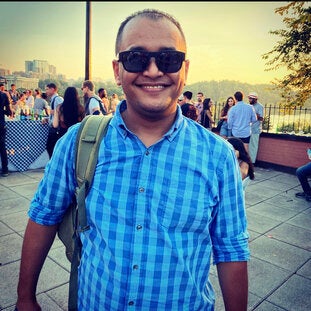 Mostafa Mahmood
Mostafa is originally from Upper Egypt and has lived in the DMV area for four years. Mostafa received B.A in English Language and Literature from Aswan University in 2011, and in 2014 he received a Diploma in Teaching Methodologies. In 2018 he was awarded a Fulbright scholarship to work as an Arabic TA at The Catholic University of America. His research focuses on Class Mobility in American Literature in the nineteenth century. In his free time, Mostafa enjoys playing soccer, swimming, attending stand-up comedy shows, and meeting new people. His favorite comedians are George Carlin and Dave Chappelle.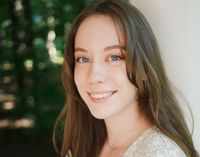 Gracyn Bird
Gracyn graduated from Dickinson College in 2021 with a double major in English and Studio Art. She is interested in intersections between the visual and verbal, including graphic novels, manga, and video games. Her research focuses on contemporary fiction, feminist theory, and postmodern theory. When not reading or writing, Gracyn enjoys painting and horseback riding.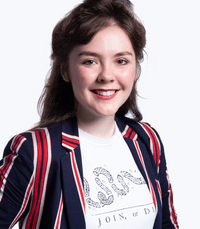 Alexandra Bowman (AB/MA)
Alexandra Bowman (@scripta_bene) is a Georgetown 2022 graduate with a double major in English and Art, and Honors in English. Alex currently serves as a contract writer and illustrator at the environmental organization World War Zero, founded by U.S. Climate Envoy John Kerry and Senator John Kasich. Alex was also a contract illustrator and political cartoonist for The Lincoln Project during the 2020 presidential election, and is a Contributing Writer and Critic for DC Theater Arts and a member of the National Press Club. She has worked as contract illustrator for organizations including Georgetown University Institute for Politics and Public Service (GU Politics), BBC News, and the National Wildlife Federation.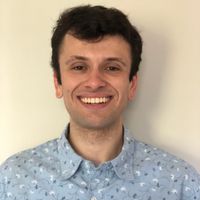 Michael Byrns
Michael is from Annapolis, MD and graduated from Williams College in 2018 with a BA in English. His current research interests revolve around postcolonialism, modernism, and the history of the English language novel. Outside of work, he can be found biking the Capital Crescent Trail and convincing people to watch Suits.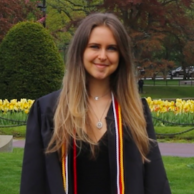 Emma Cubellis
Emma graduated summa cum laude from Northeastern University in 2021 with a combined degree in English and Communications and a double minor in History and Global Fashion Studies. Her research focuses on drawing comparisons between popular Young Adult literature and canonical literature. She works as a freelance writer and has her first novel in the works. In her spare time, she enjoys reading as many books as she possibly can, attending SoulCycle classes, and cuddling with her dog, Sherman.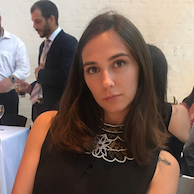 Anne Dellinger
Anne grew up in Virginia but lived in Brooklyn for several years following her graduation from The New School with a B.A. in Literature. Her undergraduate senior thesis examined the presence of alchemy in Paradise Lost, but her scholarly interests now center on documentary reportage, visual theory, and collaborations between writers and photographers. She has worked in editorial roles at various publishing houses and in museums for the last decade. In her free time, Anne enjoys hiking, recreating meals from books, and watching bad thrillers.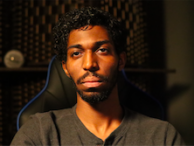 Andrew Dickerson
Andrew is from Southern Louisiana. He received his B.A. in English from Dillard University. Before Dillard, he attended Donaldsonville High School where he graduated Salutatorian. At Dillard, he worked closely with and for his dear friends, Dr. Nia Haydel and Dr. Mona Lisa Saloy (the latter of which was Poet Laureate under Bill Clinton). Andrew enjoys exploration and expedition and is just as poised to explore the wilds around a city as much as the city itself.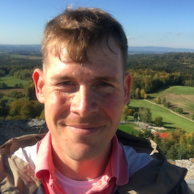 Jon Guelzo
Jon is originally from Philadelphia, Pennsylvania and earned his undergraduate degree in Liberal Arts at West Chester University in 2012. He is an active duty Army officer and has lived eight places in twelve years. In his spare time he packs boxes for his next move and entertains his two Welsh Corgis, Winston and Lucy.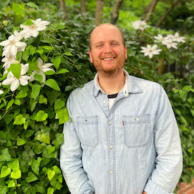 Noah Leiter
Noah hails from central Missouri, where he attended the University of Missouri and received a B.S. in Computer Science with minors in English and Mathematics. He spent the last several years living and working in New York City as a Software Engineer. Currently, Noah works at the Center for Social Justice on campus as a Justice Graduate Intern, and his personal interests include social justice, poetry, digital fanfiction, and reviewing videogames.
Angela Lentini
Angela graduated on the Dean's List of The George Washington University in 2020 with a double major in Music and English. Angela was musically driven her whole life, and accidentally fell into English by reading when she should have been at her voice lessons. It's taken Angela twenty-three years to find her true path, but she made it, and is focusing on early 20th-century American literature. Angela is currently teaching K–12 English, and hopes for a future in professorship.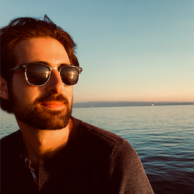 Mitch Losito
Mitch is originally from Connecticut, although he may tell you he grew up "outside of New York." He received a B.A. in English from Davidson College in 2019. At Georgetown, he is a teaching assistant for the Community Scholars Program. At any given moment, he is probably making friends with a stranger's dog.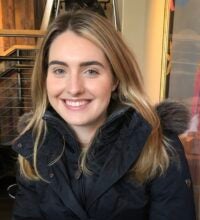 Caroline Lowder
Caroline is from Alexandria, Virginia. In 2021, she graduated from Northeastern University with a B.A. in English and Media Studies and minors in Ethics and Writing. Her thesis project focuses on creating a public-access creative non-fiction course grounded in understanding the works of Joan Didion, the emotional subtexts found in Didion's work, and how reception theory helps to explore the impact of creative non-fiction writing. At Georgetown, she works as a graduate teaching assistant for the Community Scholars Program. Outside of the classroom, Caroline enjoys volunteering through Alexandria's Book Buddies Program, and going on walks with her puppy, Honey.
Racquel Nassor
Racquel received a B.A. in English and Psychology and a minor in Dance from George Washington University in 2019. There, she completed an honors thesis examining the intersection of gender, political power, and fey in literature from the 12th to the 15th century. She worked for a Washington D.C. law firm as an Intellectual Property Assistant for two years and recently began freelance writing for an editorial book site. Her current research examines the role of Medieval and Early Modern literature and myth in science fiction and fantasy. When she's not reading, she's throwing pottery, dancing, or learning to crochet.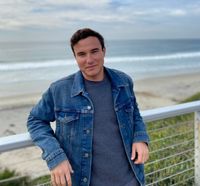 Thomas Ohno-Machado
Thomas graduated with a B.A. in Cognitive Science from the University of California, San Diego and a M.S. in Special Education from National University. After college, he served in the Teach For America corps in San Diego, California, working as a special education teacher for high school students and young adults. At Georgetown, Thomas works as a tutor in the university writing center. He also works as a youth publication fellow for 826DC–a nonprofit in Washington, DC dedicated to working with K-12 students on their writing–and teaches English composition part-time at Montgomery College in Rockville, Maryland.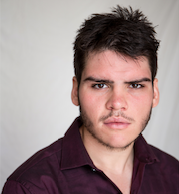 Robert Pike
Robert is originally from Orlando, Florida. He graduated with a double major in Drama and Psychology from the Catholic University of America in 2014 and stayed in the D.C. area working as an actor, director, and sound designer. His theatrical credits include Imagination Stage, NextStop Theatre Company, and Ally Theatre Company (among others). He is a proud company member at We Happy Few Productions and Rorschach Theatre Company. His research interests include Dramatic Literature & Structure, Modernism, Postmodernism, Performance Studies, and Avant-Garde Poetics.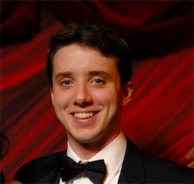 Lucas Ratigan
Lucas is originally from New Rochelle, New York. He graduated with distinction from the University of Toronto, Trinity College, where he double-majored in English and Political Science. His work has been published in literary journals such as The Lyre, Goose Fiction, and The Trinity Review. He is interested in the philosophy of religion, continental philosophy as applied to modernist fiction, and critiques of political ideology as rooted in historical studies of literature. His favorite artists include Dostoevsky, Evelyn Waugh, Franz Kafka, and Ingmar Bergman. He also un-ironically enjoys watching Love Island UK.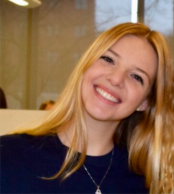 Avery Rosen
Avery grew up on Long Island, NY, and graduated from Binghamton University in 2021 with a double major in English and Cinema. With a particular interest in Gothic and Weird fiction, a significant focus of her undergraduate studies regarded 19th and 20th century literature. Avery also has a deep passion for film, particularly film theory, and the role women have in the film industry. In addition to reading and watching movies, she also adores painting and writing poetry.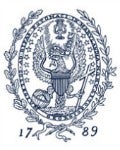 Molly Sullivan
Molly is originally from a small town in Westchester, New York. Molly received her B.A. in English and minor in History from Duke University in 2019. Outside of reading and writing, Molly's interests include playing piano, running long distance, and cooking.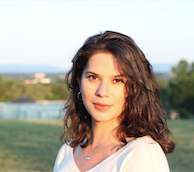 Sofia Syeda
Sofia is originally from Queens, New York. Upon completing her B.A. in English Literature and Secondary Education at Queens College, she taught high school courses in Shakespearean literature and poetry at Maspeth High School in New York City. As a writer, Sofia has published poetry with the Queens College undergraduate literary journal that commented on Pakistani and Russian societal rules. As an essayist, her research concentrates on the relationship between a subject and its space through a psychoanalytic lens. Since she moved to Winchester, Virginia her research has developed into a public project called What's Your Story?, collecting hand-written stories from current residents living in the Shenandoah Valley. Her other interests include hiking mountains, playing piano, and attending classical and jazz concerts.
Mary Turkot
Mary grew up in the New Jersey suburbs of Philadelphia. She graduated summa cum laude from Rutgers University-New Brunswick in 2021 with a B.A. in English and minors in both Creative Writing and Environmental Studies. Her senior Honors thesis aimed to explore the complex intersections between the natural world, the feminine, and familial relationships through a collection of poems and short prose. Aside from reading and writing, she enjoys watercolor painting, learning new songs on her bass guitar, and swimming in the ocean along the Jersey shore.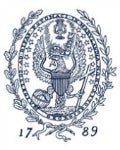 Nimi Vachharajani
Nimi graduated with a B.S. in Earth Sciences from University of California, Santa Cruz in 2021. She is excited to explore her interests as a graduate student in the M.A. English program at Georgetown, especially creative writing. In her free time, she enjoys cooking, exercising, and going on long walks.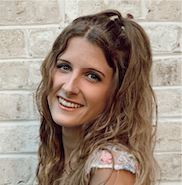 Alexis Young
Alexis graduated from the University of Virginia with a B.A. in English and History in 2019. She works in higher education consulting for Deloitte and recently published a book, The Worst Thing, on addiction and the opioid epidemic in the United States. Her research interests primarily include addiction and disability in American literature. On campus, Alexis is a Lannan Fellow, Chair of the English Graduate Student Association, and is working to complete the MA Certificate in Disability Studies. She also enjoys Orange Theory and cheering for the Chicago Cubs.
First Years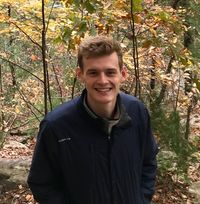 Miles Cooper
Miles grew up in Charlottesville, Virginia and graduated from the University of Virginia with a B.A. in English and a minor in Religious Studies. His academic interests include postcritique, Southern literature, literary perceptions of the self, and Romantic poetry. Outside of work, he enjoys hiking, DJing, gardening, and cooking all types of food.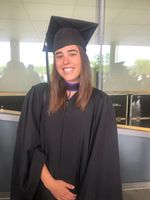 Zoe Giglio
Zoe is from California's San Francisco Bay Area and graduated with a double major in English Literature and Liberal Arts with distinction from Bishop's University. Her academic interests include rhetoric, poetry, short stories and 20th century American Literature. Zoe has spent the majority of her life on the West Coast and is excited and curious to explore what the East Coast has to offer. In her free time, you can find her dreaming up new recipes in the kitchen, long distance running, seeing live music, and backpacking.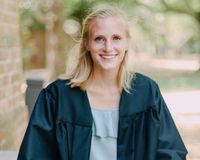 Madeline Greathouse
Madeline is from Pittsburgh, Pennsylvania. She graduated Magna Cum Laude from The College of William and Mary with a B.A. in English. She has lived in D.C. since 2017, where she earned her J.D. from The George Washington University Law School and practiced law at a boutique firm in its antitrust practice group. If you come to the city, you likely will see her on a run along The Mall.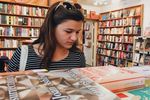 Caroline Hannum
Originally from Oley, Pennsylvania, Caroline graduated with honors from American University with a Bachelor's degree in History and minor in Art History. Before coming to Georgetown she embraced the quintessential D.C experiencing by interning for the U.S government multiple times. Her research focuses on studying how Empire and imperialist efforts impact identity regarding gender and class, and how literary movements reflect society's attempts to cope with these changes. When not reading or writing she can be found cooking, eating, and traveling.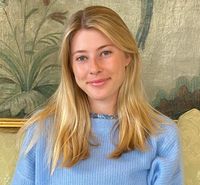 Isabel Harmet
Isabel grew up in San Diego, California, and graduated from Loyola Marymount University in 2021. She majored in English with a specialization in Irish literature, and she minored in philosophy. Her research interests include nineteenth and early twentieth century Irish and American literature, specifically Gothic and romantic works. In her free time, Isabel enjoys reading and writing poetry, and exploring local music and art scenes in different cities. Her biggest creative goal is to publish a book of her poems alongside her photography.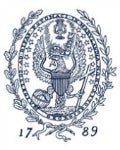 Tuong Vy Hoang
Vy graduated from Boston University with a B.A. in the History of Art and Architecture and a minor in English. Her academic interests include the motif of transience in art and literature, the relationship between historical preservation and community, and cultural themes in East/Southeast Asian fiction, particularly in terms of tropes and what they represent. Off the clock, she enjoys reading web comics and album reviews, café hopping, and relying too much on curtain bangs as an accessory.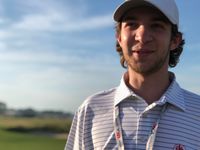 Desi Isaacson
Desi is originally from Portland, Maine. In 2020, he graduated from Washington University in St. Louis where he majored in English Literature with a focus in Creative Writing and a minor in Philosophy. His writing and research focuses on the relationship between shame and humor in postmodern fiction. Desi has worked at several journalism publications, including as a food writer at the Riverfront Times in St. Louis and currently as a contributing writer for GOLF.com. He is also a professional podcast producer and a licensed drone pilot. You can follow him on twitter @desisaacson.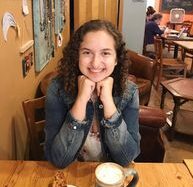 Sarah Licht
Sarah is from Titusville, Florida and graduated from Grinnell College in 2022 with a B.A. in English and Psychology. Their research interests include late Romantic writers, femininity theory, and the intersection between medicine and literature. In their spare time, Sarah enjoys reading oversized fantasy novels, playing video games, and finding new places to buy coffee.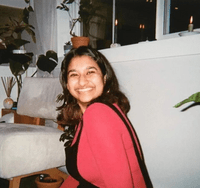 Kavita Premkumar
Kavita Premkumar is from Bangalore, India, and graduated magna cum laude from Wheaton College, MA in 2021, where she majored in English Literature and minored in Education. Her research interests include 19th century British Literature, Children's Literature and Modern Irish Literature. Her senior capstone paper was focused on Tennyson's incorporation of the fallen woman trope in the Idylls of the King. She is also passionate about local journalism and her work has appeared in the Wheaton Wire and the Martlet. She works as a Teaching Assistant with the Community Scholars Program.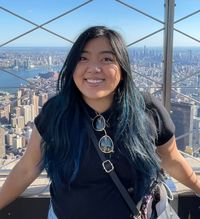 Halle Trang
Halle is a California native, having grown up in Los Angeles and graduating from the University of California, Berkeley in 2019 with a degree in English and a minor in Education. Her research interests include writing pedagogy, postcolonial theory, and Contemporary Literature with an emphasis on Asian American texts. She is a Teaching Assistant for the Community Scholars Program, and when she is not working or studying at a local coffee shop, you can find her cooking/baking, exploring museums, or volunteering with K-12 youth in various after school programs.
AB/MA Students