Audrey Hall | April 2023
Posted in Honors Spotlight | Tagged Department of English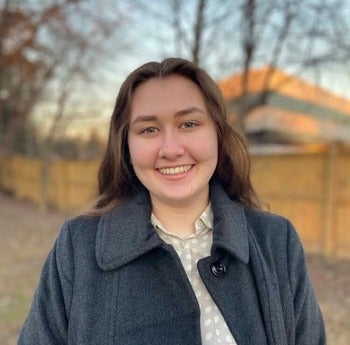 Why did you decide to apply for Honors?
I was a junior-year transfer student [from Montgomery College], and I first heard about the program from my faculty mentor; we were talking about things I could do as a transfer student to get involved at Georgetown.  I am considering applying to law school, but as a transfer student I wasn't able to fit a minor like JUPS into my schedule. I was excited about the chance to pursue a year-long research and writing project, I had never had an opportunity to do that before, and especially liked the idea of pursuing a creative project. I had written fiction at my community college in a few classes—in one interdisciplinary English-History class I wrote a historical narrative about the Korean "Comfort Women"—as well as on my own in high school and college. So I decided to propose an Honors fiction project focused on Cherokee women in the prison system that incorporates aspects of the law and the criminal justice system that I was interested in exploring.  I considered a critical project on this topic; but because I wanted to grow as a fiction writer I knew I couldn't pass up an opportunity to pursue this as a creative project.
Yes, creative writers in Honors are generally excited by the chance to pursue a more sustained project—e,g., a collection of short stories or a novella like yours–than they can in individual semester-long creative writing courses. How did you choose your topic?
I had this topic in mind for a while–since my second year of college. We had to do a major project about globalization. My mom suggested, why don't you do something on our family history, about Native Americans; I hadn't really been connected with my tribe [Cherokee] until I got into college–it's really hard to be connected when you're off the reservation [in Oklahoma] and out of state. I started researching and I found this issue of over-representation in the criminal justice system; Native Americans are about 4 percent of the general population but 20 percent of the prison population. Especially for Native women these numbers have increased rapidly over the years. I thought: why aren't people talking about this? It's a huge issue. I focused on this issue in several course papers at Montgomery College.
In terms of the fiction aspect, I wanted to write something that would call attention to and critique the problem but give it a lot of humanity, focus on the human side of incarceration. Because you can look at statistics but that doesn't give you the perspective or experience of incarcerated women, and even in government reports and critiques of the problems, Native voices are almost always absent.
The day-to-day life of the prison experience, its mundanity, interests me; there is this whole system or other world that the women enter, with its own rules and hierarchies. And they are not the same when they come out as when they entered this system.
What has the process of Honors thesis writing been like? How has the project changed?

The process has been great. My mentor Prof. Fink gives me short assignments—for example, write 5 pages to find a character through the writing—that help me write the thesis piece by piece, make it less overwhelming. Along the way I conduct research—for example, searching for any available first-person testimonials by Native women in prison; finding details about food served in federal prisons—which lets me incorporate important small details about prison life and move my thesis where I want it to go. Overall I have learned more about indigenous history and how colonizing systems (e.g., the system of boarding schools) continue into the present in different forms. My thesis is the thing I have enjoyed most over this entire year. It was always something I could go to, and enjoy writing because I was designing the project myself.
Having a full year with the project and characters has been interesting, and I've grown along with the story. For example, my own relationship with a sister has changed alongside developing the sisterly relationships at the center of my project. And the thesis has allowed me to become more connected with my Cherokee background. Last summer I started studying the Cherokee language online, and I ended up incorporating that into the book; I continue to learn more words so I can add them into the story. My central character has a story arc where she's learning the language, reflecting my own process. That's the thing, as a tribal member I could vote in elections, but being able to learn the language is a way to connect with my tribe even from a distance.
What has it been like to work with your faculty mentor? And what has it been like to be part of the Honors Proseminar and cohort?
The mentorship has been extremely helpful. My mentor Prof. Fink encourages me in ways I didn't know I needed that encouragement. She gives me really good advice and suggestions, but always says: this is your story; you get to take everything in and make it your own. But is it so helpful to have another close reader throughout the process, who can say, this is a cool interesting thread you should continue and I'll think, oh wow it was my subconscious working but now I can see this would be useful. The structure and support of the Proseminar have also been great; you get the feedback of the Proseminar leader and the other students throughout the year. My classmates have been excellent readers for my project. I didn't think I could ever do something like this; but the Honors community here and the peer support, it's been very encouraging and confidence building. You have mentorship, but also a cohort experience where you learn about other projects, see how different people approach their projects, and how their projects change and grow. You're not alone, you share this journey with others.
What advice do you have for students considering Honors, especially transfer students?
Definitely do it! I really suggest it, because it gives you one final opportunity in college to do something you are passionate about; it gives you a unique chance to work on a project you love and have a real sense of accomplishment in completing it. You get to build a close, supportive relationship with a faculty mentor, and it's also a good way to build a community, even if you're just here for 2 years. You can't find all this anywhere else. It's definitely been one of my favorite things at Georgetown!